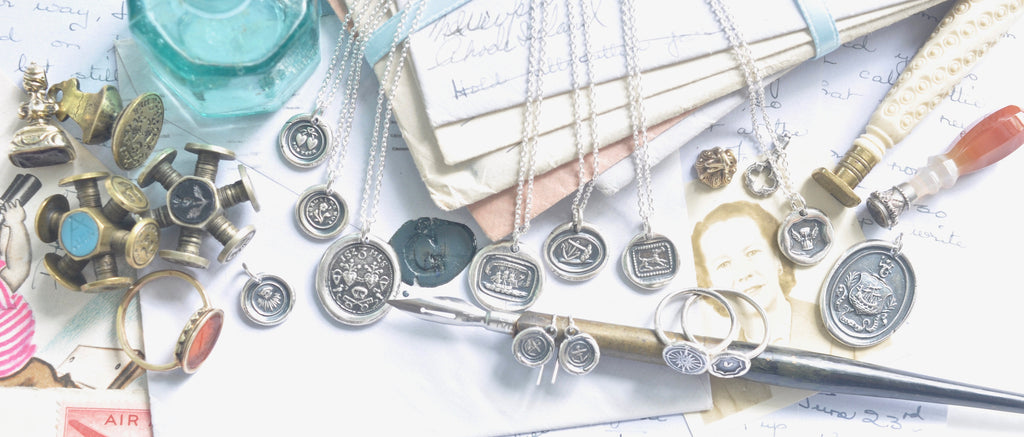 Those of you who know me may have guessed that the photos on the front page of my website have some significance… and you would be correct!
I love flea markets, antiques festivals and antique shops… places where I can riffle though the castaways of others.  It's kind of a treasure hunt to me, never knowing what I might find.

I attended a flea market back in early 2016 and while visiting my favorite eccentric seller, with his eclectic collection, I found an old box filled with letters, all from one woman, Mena, to a particular man, Desmond.  I have much more to share about these letters later but now, back to the website banner.

These are Mena's letters, cards, and even an old photo of her.  The wax seal necklaces, and corresponding antique wax seal (stamps) were specially selected to meaningfully represent the letters, those she may have used if she had them in her own wax seal collection.
two hearts, tied together with a ribbon FOR EVER
FORGET ME NOT flower
all seeing eye
a skull with 2 hearts symbolizing til death us do part
a ship under the words THE FURTHER APART, THE TIGHTER THE BOND anchor earrings and an anchor leaning on a rock, both representing HOPE
a dog running with a letter in his mouth
the winged hourglass repressing the flight of time
a ship with a mermaid above the motto THE SENTINEL SLEEPS NOT
a compass wax seal ring, because it's nautical and represents navigation
a pierced heart wax seal ring symbolizing love.
These symbolize her letters, her love story.  Desmond was a Commander in the US Navy and they were often separated so she wrote to him almost daily.  And he saved her letters.
And that is the beautiful love story of this photograph.